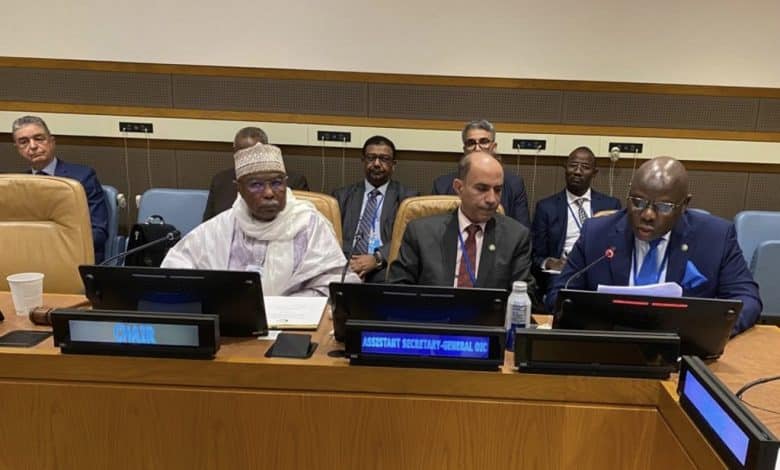 New York (UNA) - The OIC Contact Group on Muslims in Europe held an open-ended meeting on September 20, 2023 in New York, on the sidelines of the seventy-eighth session of the United Nations General Assembly, headed by the Secretary-General of the Organization, Hussein Ibrahim Taha.
In his speech, the Secretary-General expressed the OIC's deep concern about the escalation in the intensity of anti-Muslim rhetoric and feelings of hatred towards them, and its strong condemnation of incidents of desecration and burning of copies of the Holy Qur'an in some European countries. In this regard, the Secretary-General reviewed the steps he took to follow up on the results of the eighteenth special session of the Council of Foreign Ministers and the previous meetings of the Executive Committee. He called for more efforts to support constructive dialogue in order to promote the values ​​of harmony, understanding, tolerance and mutual respect between cultures.
On the other hand, the meeting affirmed its condemnation in the strongest terms of the recent heinous acts of aggression that violated the sanctity of the Holy Qur'an in Sweden and Denmark.
In this context, he renewed his commitment to implementing the recent decision of the Council of Foreign Ministers regarding the repeated crimes of desecrating and burning copies of the Holy Qur'an.
The meeting called for respecting the religious freedom of all Muslims and not restricting the human rights and fundamental freedoms of Muslims, including not depriving them of the right to exercise their religious rights and cultural identity.
He expressed his deep concern about the disturbing trend of anti-Muslim sentiment, Islamophobia, the phenomenon of Islamophobia, hate speech, right-wing extremism, and the trend taken by violent incidents targeting Muslims in some European countries.
(is over)