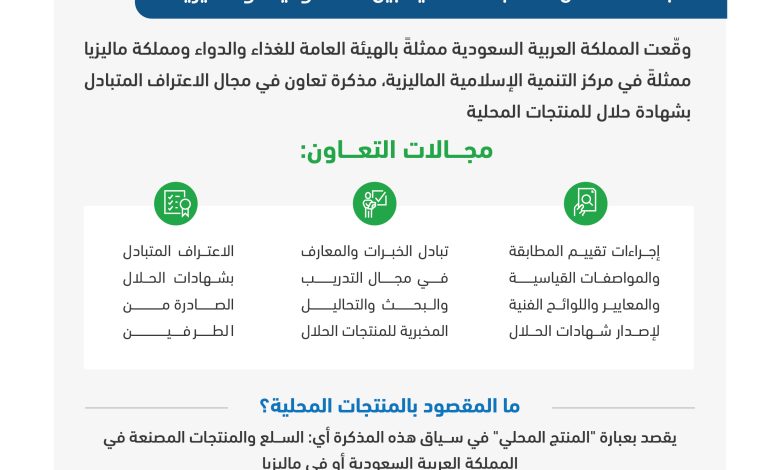 Riyadh (UNA) – The Kingdom of Saudi Arabia, represented by the Saudi Food and Drug Authority, and the Kingdom of Malaysia, represented by the Malaysian Islamic Development Center "Jakim", signed a memorandum of cooperation in the field of mutual recognition of the Halal certification of local products manufactured in both countries.
Dr. Hisham bin Saad Al-Jadhei represented the Kingdom at the signing of the agreement, CEO of the Food and Drug Authority, while Dr. Hakima Yusuf was represented by the Director General of the Department of Islamic Development in the Malaysian Prime Minister's Office.
Areas of cooperation include mutual recognition of halal certificates issued by the Saudi Halal Center affiliated to the "System" and the Islamic Development Center in Malaysia, with regard to local products exported between the two countries, in addition to cooperation in conformity assessment procedures, standard specifications, standards and technical regulations for issuing halal certificates, and exchanging experiences. And knowledge in the field of training, research and laboratory analysis of halal products.
For his part, Dr. Al-Jadhei confirmed that the Commission seeks with Jakim, through the memorandum of cooperation, to standardize Halal standards, and raise the level of coordination to benefit from the expertise between the two parties in the field of legal and technical research, due to the existence of differences in Halal specifications and the multiplicity of certificates, with more than 400 certificates worldwide. , which affects the credibility of Halal marks, and confirms the need for a regulatory and legislative framework for Halal globally and joint work to develop supervision in this field globally, to contribute to enhancing the reliability of Halal products for Muslims all over the world.
The head of the SFDA stressed that the SFDA, represented by the Saudi Halal Center, has been working for several years to lay a building block that contributes to building a unified system for granting halal certificates in all countries of the world, and this was represented in the signing of a memorandum of cooperation between the Kingdom and Morocco in this field in October. the past.
He added, "Indications indicate that the Islamic economy globally enjoys promising opportunities, since the number of Muslims represents almost a quarter of the total world population, and the volume of the Islamic economy is growing significantly."
It is noteworthy that the Saudi Halal Center is one of the initiatives of the National Transformation Program, and the certificates it grants contribute to facilitating import and export procedures, in addition to supporting the export of local products to compete in global markets. To develop oversight of Halal products, and to appoint external certification bodies.
(is over)