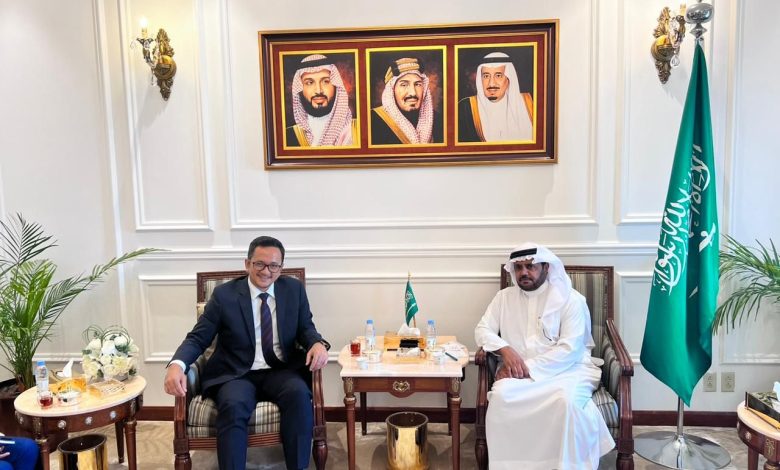 Jeddah (UNA) - The Saudi Permanent Representative to the Organization of Islamic Cooperation, Dr. Saleh bin Hamad Al-Suhaibani, received in his office at the delegate's headquarters at the Ministry of Foreign Affairs branch in the Makkah Al-Mukarramah region in the Jeddah Governorate, Yasser Bahaa Al-Din Al-Anbari, the new Permanent Representative of the Republic of Indonesia to the Organization of Islamic Cooperation.
During the meeting, ways of coordination, exchange of views and cooperation in the areas of joint Islamic action were reviewed, topics of common interest were discussed, and ways of enhancing cooperation in the various fields of concern to the organization and its various bodies, in addition to reviewing the role of member states as well as the permanent delegates of the organization in confronting challenges and strengthening... Its role in the issues of the Islamic world and its significant impact in doubling its diplomatic and political efforts on the regional and international arenas.
Al-Suhaibani congratulated his counterpart Al-Anbari on his appointment as Permanent Representative of the Republic of Indonesia to the Organization, stressing that this meeting comes within the framework of strengthening the multiple working relations between the Permanent Representatives of the Organization of Islamic Cooperation and supporting coordination and consultation in all diplomatic topics and activities related to the Organization.
Al-Suhaibani stressed the necessity and importance of continuing cooperation to ensure unification of Islamic positions and unification of the Islamic ranks, as well as continuous coordination that pushes joint Islamic action forward to continue the organization's position in carrying out its role and serving member states.
In the context of the meeting, Al-Anbari expressed the Republic of Indonesia's appreciation for the great support provided by the Kingdom of Saudi Arabia to the Organization of Islamic Cooperation since its inception until today as the headquarters country, praising its authentic positions that are consistent with the Kingdom's mission and interest in supporting joint Islamic action, and its tireless endeavor to develop cooperation among the peoples of the Islamic world on a humanitarian level. Economically and in various fields.
(is over)